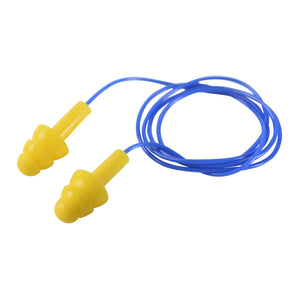 Re-usable Earplugs with polyester cord.
Technical Specification:
Silicone Earplugs with polyester cord Technical Specification: SNR: 28db as per CE EN 352-2
NRR 23 db as per ANSI S3 19 - 1974
Material: Silicone
Hardness: 35°,
Pulling Force: 5N ,
Rebound time: 45-60s ,
Cord Material/length: Polyester / 70 cm.                        
Re usable type for a long time in a good shape. 
Humidity and sweat resistant.    
3 layer Christmas tree design fits most ear canals.  

Packed in individual poly bag, Standard packing of 50 numbers per box.